Colorado Springs Lawn Aeration, Sprinkler Startup, Sprinkler Repair

and Sprinkler Blowout & Winterizing Experts since 1995!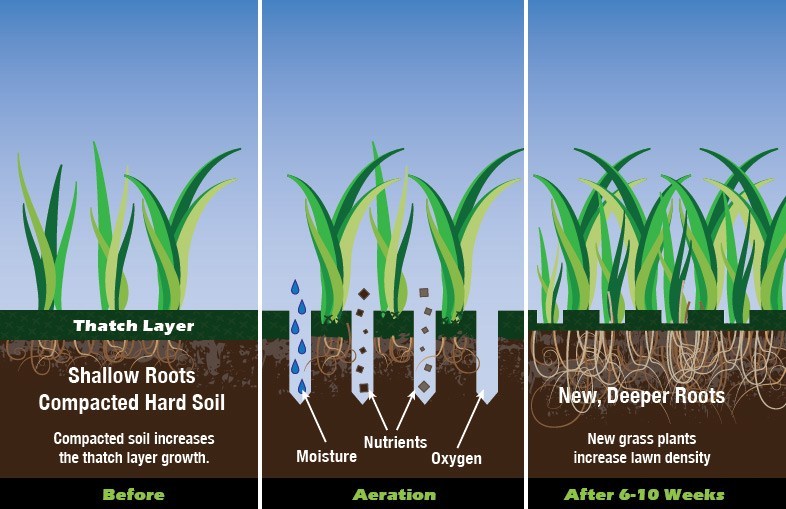 Gary's Lawn Solutions have been Colorado Springs lawn aeration and sprinkler experts for over 20 years.

We provide top-quality lawn aeration packages, sprinkler startup packages, sprinkler blowout and winterizing packages and all phases of professional sprinkler repair in Colorado Springs and surrounding areas.

We believe excellent workmanship, great customer service, combined with the highest degree of integrity is the best formula to build a great client/business relationship! 

What is Lawn Aeration?
Lawn aeration is a process that mechanically opens the turf. Lawn aeration machines penetrate the soil and provide the needed space for roots to grow. When roots are compacted and do not have enough space to grow, the lawn will stop growing.

Spring lawn aeration is the best-known practice to keep your lawn green, healthy, and problem-free year after year!
Why is Spring Lawn Aeration Important for Your lawn?
The soil in Colorado Springs consists of clay, sand, or a combination of both. Clay and sand are approximately 2-3 inches beneath the surface of the lawn. Roots cannot grow through clay or sand and will cause the lawn to thin out and eventually perish.  ​

Throughout the cold and dry winter months, your lawn is in its dormant stage. Roots have been deprived of water and nutrients. Spring lawn aeration will allow water, fertilizer, oxygen, and all other important nutrients to soak into the soil and stimulate new root growth. Most importantly, roots will have the needed room to grow for the lawn to flourish. 
Why Choose Gary's Lawn Solutions to Perform Your Lawn Aeration Service?
Our extensive "Double" lawn aeration packages include overlapping your lawn a minimum of 2-3 times. Extra fertilizer, extra water, and all other important nutrients will soak deep into the soil and feed your lawn properly.

If your lawn needs extra attention in thinning areas or dead patches, we will attend to these problemed areas as much as necessary.

Our goals are to improve the health and quality of your lawn. We don't charge any additional fees to complete the job right!
Why Are Our Fertilizers Better For Your Lawn?

All our fertilizers are commercial grade products commonly applied to community parks, public schools, commercial properties, and golf courses. Our fertilizers are manufactured and blended here in Colorado to perfectly balance the Ph in the soil. Applying the correct and proper amount of top quality fertilizers will keep your lawn green, and healthy.
Why Is Our Kentucky Bluegrass Seed Better for Your Lawn?
Kentucky Bluegrass is the #1 grass of choice throughout Colorado.

Many homeowners believe that all brands of Kentucky Bluegrass look and grow the same. There are actually over 200 different varieties of Kentucky Bluegrass. When overseeding is necessary to fill in dead patches and thinning areas, 

you get what you pay for! ​
Our Kentucky Bluegrass seed is a commercial grade, top-of-the-line blend, commonly applied to parks, commercial properties, and golf courses. Our seed type is durable, drought-tolerant, easy to maintain and designed to last. Our Kentucky Bluegrass seed type will keep your lawn looking great!

Our commercial-grade weed & feed fertilizer prevents weeds before they begin to grow! 

Our weed & feed fertilizer destroys weeds such as dandelions, thistle, and other broadleaf weeds while fertilizing the lawn simultaneously.

Commercial-grade weed & feed is most beneficial when applied immediately after lawn aeration has been performed as it will soak into the soil at a much quicker rate before the weeds begin to spread.

Why Choose Gary's Lawn Solutions to Perform Your Sprinkler Startup?
Gary's Lawn Solutions has provided expert sprinkler startup services in Colorado Springs and surrounding areas since 1995'. Whether you need a sprinkler startup, sprinkler repair or just some great advice, we are the experts you can count on! ​

Our sprinkler startup services are performed by licensed plumbers with 20 plus years of hands-on experience. Our step-by-step sprinkler startup process will protect your system from unnecessary sprinkler repairs during the activation process.

Starting up your sprinkler system correctly is the difference between a smooth-running system and expensive and preventable repair bills.
Visit our "Sprinkler Startup Page" to see our step-by-step, sprinkler startup package
Why Choose Gary's Lawn Solutions for Your Sprinkler Repair?
Our licensed plumbers have 20 plus years of technical knowledge resolving every type of sprinkler repair issue. We only use state-of-the-art, commercial-grade parts and our workmanship is always top-notch!

We stand behind our work and warranty all of our parts and labor. We explain all of the preventative measures that should be taken to avoid any unnecessary sprinkler repair issues.

The top 3 causes of unnecessary freeze damage requiring sprinkler repair are
​
1)Turning the sprinkler system on in March or April and the temperature drops after being pressurized.
2) Not blowing out and winterizing the sprinkler system or performing the winterizing process incorrectly.
3) Hiring inexperienced and/or non-licensed sprinkler repair companies.
Sprinkler Startup Rule-of-Thumb is Mother's Day!

Colorado Springs Lawn Aeration, Sprinkler Startup, and Sprinkler Repair Experts Since 1995!
Colorado Springs and surrounding areas including Aurora CO, Castle Rock CO, Centennial CO, Highlands Ranch CO, Lone Tree CO, and Parker CO
Lawn Aeration | Lawn Aeration Colorado Springs | Lawn Aeration in Colorado Springs | Lawn Aeration Service | Lawn Aeration Service Colorado Springs | Lawn Aeration Service in Colorado Springs | Lawn Aeration Companies | Lawn Aeration Companies Colorado Springs | Lawn Aeration Companies In Colorado Springs | Lawn Aeration Near me | Best Lawn Aeration Company in Colorado Springs | Lawn Aeration | Lawn Aeration | Lawn Aeration Colorado Springs | Lawn Aeration in Colorado Springs | Lawn Aeration Service | Lawn Aeration Service Colorado Springs | Lawn Aeration Service in Colorado Springs | Lawn Aeration Companies | Lawn Aeration Companies Colorado Springs | Lawn Aeration Companies In Colorado Springs | Lawn Aeration Near me | Best Lawn Aeration Company in Colorado Springs | Lawn Aeration |Lawn Aeration | Lawn Aeration Colorado Springs | Lawn Aeration in Colorado Springs | Lawn Aeration Service | Lawn Aeration Service Colorado Springs | Lawn Aeration Service in Colorado Springs | Lawn Aeration Companies | Lawn Aeration Companies Colorado Springs | Lawn Aeration Companies In Colorado Springs | Lawn Aeration Near me | Best Lawn Aeration Company in Colorado Springs | Lawn Aeration |Lawn Aeration | Lawn Aeration Colorado Springs | Lawn Aeration in Colorado Springs | Lawn Aeration Service | Lawn Aeration Service Colorado Springs | Lawn Aeration Service in Colorado Springs | Lawn Aeration Companies | Lawn Aeration Companies Colorado Springs | Lawn Aeration Companies In Colorado Springs | Lawn Aeration Near me | Best Lawn Aeration Company in Colorado Springs | Lawn Aeration |Lawn Aeration | Lawn Aeration Colorado Springs | Lawn Aeration in Colorado Springs | Lawn Aeration Service | Lawn Aeration Service Colorado Springs | Lawn Aeration Service in Colorado Springs | Lawn Aeration Companies | Lawn Aeration Companies Colorado Springs | Lawn Aeration Companies In Colorado Springs | Lawn Aeration Near me | Best Lawn Aeration Company in Colorado Springs | Lawn Aeration |Lawn Aeration | Lawn Aeration Colorado Springs | Lawn Aeration in Colorado Springs | Lawn Aeration Service | Lawn Aeration Service Colorado Springs | Lawn Aeration Service in Colorado Springs | Lawn Aeration Companies | Lawn Aeration Companies Colorado Springs | Lawn Aeration Companies In Colorado Springs | Lawn Aeration Near me | Best Lawn Aeration Company in Colorado Springs | Lawn Aeration